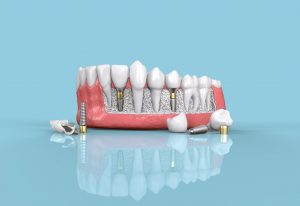 Dental Implants
Missing teeth can leave more than just a gap in your smile- they can have a long-lasting impact on your oral health and can affect chewing, eating, and speaking. Whether you've lost a tooth from an accident, injury, or decay, dental implants serve as a permanent solution for missing teeth.
What is a dental implant?
Dental implants are composed of an artificial root that supports a prosthetic tooth. Made from titanium, the implant is placed into a healthy jaw bone once the tissues have healed from the extraction.
Titanium is the material of choice due to its ability to fuse well with bone tissue. It is also resistant to corrosion and ultra-durable. Once the implant and the surrounding tissue have healed from the surgical implant process, the prosthetic tooth, or crown, is bonded to the implant.
How long is the dental implant process?
There are a few phases to the implant process. The first phase is to ensure that the damaged tooth is extracted, and to verify that there is a sufficient amount of bone mass for the implant to be placed into. If a bone graft is needed, we will discuss your options with you. The grafting process could take several months, depending on the severity of the bone regression.
The next step in the process is to surgically insert the implant. The recovery time for this may take up to several weeks, as the healthy bone tissue in the jaw must graft itself to the titanium implant. Once healed, you'll have a permanent artificial root that connects to a dental crown. This crown will be customized and color matched to look just like your remaining teeth.
How do I care for my dental implants?
To keep your implants healthy, it is important to maintain a good oral hygiene routine, and to keep up with your regularly scheduled dental appointments and cleanings. Even a mouth filled with implants will need professional cleanings and gum evaluation.
It is never too late to replace missing teeth. Dental implants can prove to be one of the most effective ways for you to get your natural-looking, healthy smile back. If you are interested in learning more about implants or scheduling a consultation to see if this option is right for you, contact us online or give us a call today at 614-870-3337.