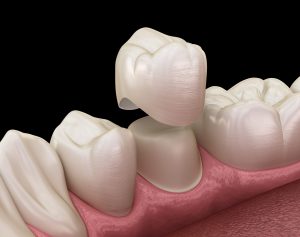 Dental Crowns
Are you suffering from cracked, broken, or discolored teeth? A dental crown can be used to restore the cosmetic look, as well as prevent further structural damage to a tooth.
What are dental crowns?
Dental crowns are prosthetic caps that are placed over repaired teeth to protect them from further injury. They are a cap-like appliance that fits over the tooth and restores its look and function. They are used to restore the shape, size, and appearance of your teeth. Crowns are also used to cap off dental implants and root canals.
When are dental crowns used?
There are a number of reasons you may need a dental crown. Weakened teeth that have sustained damage or have been worn down from age can be defended from further harm and decay. Additionally, teeth that have had large fillings or root canals can benefit from the protection that crowns provide.  Dental crowns can be used for cosmetic restorations. They are also used to help stabilize dental bridges.
What are dental crowns made of?
Dental crowns can be made from ceramic, all resin, metal, and porcelain fused to metal. Our dentists will take your needs into consideration so that the best choice can be made. Metal crowns are a good choice for molars and other teeth that aren't visible when you smile. They are not prone to chipping or breakage, and can stand up to the wear and tear they'll get. The metals used are most often chromium, gold, or nickel.
All ceramic crowns offer the ability to best match the color to your natural teeth. They are the best choice to consider for those who may have allergy concerns with metal. Ceramic crowns are a great option for teeth that have high visibility.
How is a dental crown placed?
When you get a crown, you will need to come in for two separate visits. At the initial visit, we will examine the tooth and prepare it for the crown. If there is evidence of decay, we will remove and repair what we can and evaluate if a root canal is necessary.
We will then file down your tooth so that the crown can fit securely over it. An impression will be made to ensure that the crown will look and feel natural so that it will not hurt your bite. A temporary crown may be set in place while the permanent crown is being made. When the crown is complete, often within two weeks, it's bonded in place at the next office visit.
It may take a few days to get used to your new crown. After the procedure, it is normal to experience heat or cold sensitivity.
Do you have a tooth that you think could benefit from a dental crown? Are you interested in learning more about crowns, or the crown placement process? Contact us online, or give us a call at 614-870-3337 today.