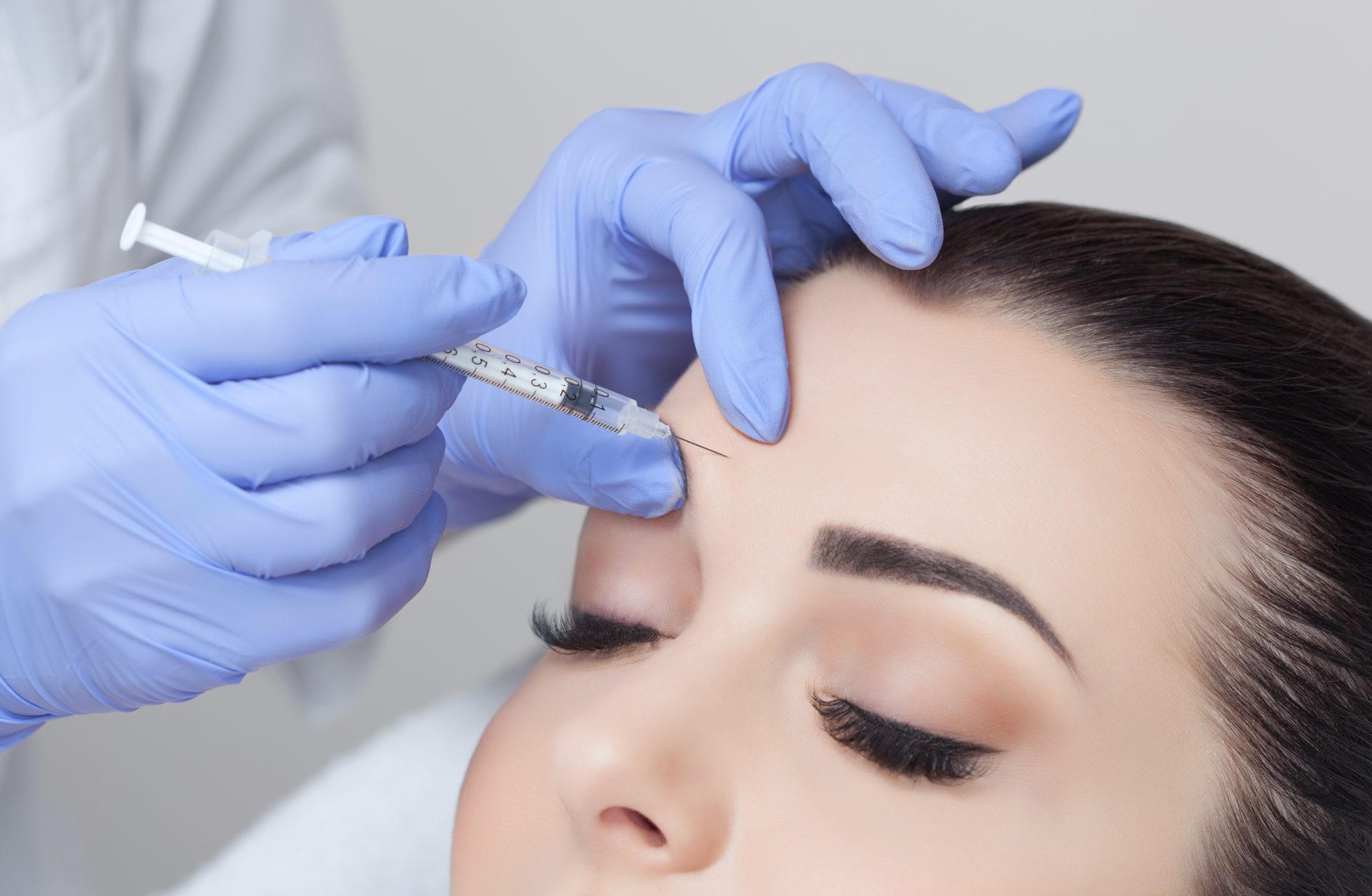 Aesthetic Services at Norton Family Dental
The advancements in non-surgical and non-invasive treatments to improve facial esthetics and manage facial pain are truly impactful for many people. Our team at Norton Family Dental is proud to continually advance our learning in these procedures and provide them to our patients. Whether you want to diminish the lines around your eyes or you'd like relief from TMD-related headaches, we will listen to you and address your concerns. Continue reading to learn more about Norton Family Dental's aesthetic services.
BOTOX® TREATMENT
Botox® is best known for its ability to make fine lines and wrinkles vanish, but it can also be an effective treatment for temporomandibular joint dysfunction (TMD), often referred to as TMJ. Whether you'd like to refresh those bothersome spots with a Botox® treatment to bolster your confidence and self-esteem or find reprieve from jaw pain and headaches due to TMD, Dr. Fulks and his team in Columbus, Ohio will provide you with compassionate and effective care.
What is Botox®?
Botox® is an FDA approved neurotoxin that works by blocking the transmission of signals between nerves that control muscles. Dr. Fulks, who is certified to administer Botox®, will use it to treat patients who want to reduce the look of fine lines and wrinkles or who suffer from the painful symptoms of temporomandibular joint dysfunction (TMD).
Botox® for Aesthetic Improvement
The team at Norton Family Dental can not only transform your smile into a beautiful one, but they can also provide facial aesthetic services that will complete your total makeover. If you're tired of looking tired or angry all the time, then Botox® may be just the remedy you seek to create a look that matches how you truly feel. Botox® is most often used to decrease wrinkles in the frown lines between the eyes, forehead, crow's feet (eyes), chin dimples, lip lines, and nose lines. It can also be used to slim the face by decreasing the muscle mass around the jawline whereby the jawbone can become more pronounced.
Botox for the treatment of TMD and Bruxism
TMD stands for temporomandibular joint dysfunction but is often referred to as TMJ (temporomandibular joint). TMD and TMJ are terms used to describe symptoms that result from the improper functioning of the jaw muscles and joints. People who clench or grind their teeth suffer from bruxism. Both TMD and bruxism have similar symptoms. Because Botox® affects muscles, it helps alleviate pain in the jaw, face, or head that is triggered by clenching and grinding teeth or from the effects of TMD. Botox® can be an important therapeutic tool in TMD and bruxism treatment. After a careful examination by Dr. Fulks, and listening to your input, a treatment plan can be established to provide you with the best outcome for relief.
What is the procedure for Botox®?
Botox
®
 treatments are simple, painless, and quick! Dr. Fulks will administer the Botox
®
 with a needle into the area you desire to be treated. You won't need any
anesthesia
for treatment. Botox
®
 is injected with a very fine needle and is painless.
Typically, you will see visible results within about two to ten days. The aesthetic and therapeutic improvements of the Botox will last for about three to four months. As the Botox wears off and the muscles regain their ability to receive nerve stimulation, lines and wrinkles will return and re-treatment will be required. With continued treatment, the lines and wrinkles should be less noticeable because muscles become "trained," so to speak.
To speak with
Dr. Fulks
about how Botox
®
 can help you, call us at Fulks Family Dental in Columbus at 614-870-3337.
DERMAL FILLERS
The team at Norton Family Dental Care in Columbus, Ohio is pleased to offer you dermal filler facial service as another option in your quest for self-improvement. If you are constantly bothered by droopy skin and wrinkles on your face, now is the time to do something about it. Dr. Fulks and his team are certified to provide these procedures and excited to see you thrilled with the results!
What are dermal fillers?
Like Botox® treatment, FDA approved dermal fillers are non-surgical injectables. They are made from naturally occurring hyaluronic acid whose gel-like substance will restore volume, smooth lines, soften creases, or enhance the contours of your face (like the jawline).
How do dermal fillers work?
Our skin has collagen and hyaluronic acid to add structure and fullness. Unfortunately, as we age, our skin loses collagen and hyaluronic acid which causes the skin to sag and wrinkle. This is where dermal fillers can do their magic and bring a youthful appearance back to your face.
There are a few options when it comes to fillers, but all have two things in common. First, they all plump the skin and replace lost collagen, and secondly, they all encourage your body to create its own natural collagen so that in the long term, your face will naturally appear more youthful.
What is the procedure for a dermal filler?
Having a dermal filler treatment is simple! No anesthesia is required and the whole process will last between twenty and forty minutes. You will see immediate results that will last anywhere between six months and two years depending on the kind of filler you choose (Juvederm, Restylane, Radiesse, or Voluma XC). Dr. Fulks will be happy to discuss the details of each kind of filler with you.
Frustrations with our appearance are common, but deciding not to live with them anymore is empowering. The advancements in cosmetic procedures to improve our smiles and facial aesthetics are truly remarkable. Take advantage of them, and allow Dr. Fulks the privilege to transform your appearance so you can live with confidence again! 
Contact
Norton Family Dental in Columbus to learn more about how dermal fillers can improve your appearance.